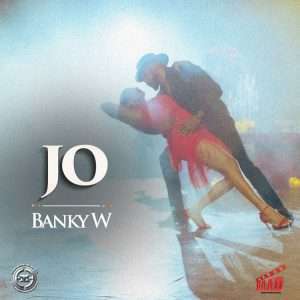 Banky W – Jo MP3 Download Audio Lyrics.
Talented Singer and songwriter, Banky W rolls out a brand new single titled " Jo" . The song was produced by Cobhams Asuquo .
The new single serves as a follow up to his previously heard single titled, "Final Say".
The song "Jo"is a wonderful number which is a must for your playlist.
Lyrics:
Yes you are far from the regular
The life of the party, I wanna be exactly where you are
E be you wey dey burst my medulla
As you dey totori mi wit the vibe wey dey sweet me pass sugar
As U dey kill me wit d gbas
…kill me wit d gbos
On the dance floor, murder she wrote
This your fire dance, dey make me catch cold
Girl you get the talent, go ahead and let it show
Cuz I love the way you jo… jo… jo
Fun mi like so…so… so
Them no fit to measure to my baby
Patewo for my baby
Yes I love the way you jo… jo… jo
Fun mi like so… so… so
Them no fit to demo for my baby
Patewo for my baby
My baby good, baby bad oh
If you see the way she move e be mad oh
Oya enter the groove issa jam oh
I dey the mood, make we do the collabo
Me tell her, me tell her "who's your Zaddy?"
I'm feeling good cuz my boo's a baddie
I'm feeling nice cuz my wife's a hottie
Any other kind, them be photocopy
Oh my Lordi
And me no send nobody, no
You look takeaway and I go carry go
Aye mi temi ba mi wo
I don hit the lotto, issa goal
With the gbas, kill me with the gbos
On the dance floor, murder she wrote
This your fire dance, dey make me catch cold
Girl you get the talent, go ahead and let it show
Cuz I love the way you jo… jo… jo
Fun mi like so…so… so
Them no fit to measure to my baby
Patewo for my baby
Yes I love the way you jo… jo… jo
Fun mi like so… so… so
Them no fit to demo for my baby
Patewo for my baby
She no dey hinder the ginger
She got me tripping, I don't even need a visa
I need her now, need her later
Ma lo faraway my baby eh
She no dey hinder the ginger
She got me tripping, I don't even need a visa
I need her now no be later
Omo don't go far
Cuz I love the way you jo… jo… jo
Fun mi like so…so… so
Them no fit to measure to my baby
Patewo for my baby
Yes I love the way you jo… jo… jo
Fun mi like so… so… so
Them no fit to demo for my baby
Patewo for my baby
My baby good, baby bad oh
If you see the way she move e be mad oh
Oya enter the groove issa jam oh
I dey the mood, make we do the collabo