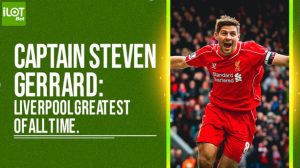 In comparing Liverpool captains, Gerrard is undoubtedly the boss of bosses, and iLOT Bet still remains the Capo dei Capi as you will be rewarded with up to #300 Naira bonus on your first deposit using Opay!
Among the nine who rose from the banks of the Mersey to wear the armband for the Reds, he is undoubtedly the greatest – even ranked alongside the other 46 men who have captained Liverpool, Gerrard is peerless.
Gerrard, having led Liverpool as captain for 12 years, playing 710 games, scoring 186 times, including goals in every major cup final, as well as managing to score in 16 consecutive seasons and amassing 11 trophies, is clearly the best in his prime.Gerrard's performances and his connection to the city also place him in the same category as Billy Liddell and Kenny Dalglish.He is, like them, a player who, during his era, not only represented the club with distinction, but who came to define it. All have been tremendous talents in their own right, but none could claim to have carried the team and city they represented, in the same way that Steven Gerrard carried Liverpool.
Steven Gerrard's story has been so well documented that it's hard to find words to express his importance to Liverpool FC that haven't already been said or written. His rise to prominence has also happened before our eyes. He is a living legend.
In years to come we will undoubtedly regard ourselves as blessed to have seen him play in the flesh. Future grandchildren will be wowed about the many tales of Stevie's feats of superhuman ability, and how in our hour of darkness he came to the rescue time and again.
At football grounds the length and breadth of England and on the continent, supporters of all clubs have witnessed his brilliance and seen their teams succumb to it.The fact English fans still sing of the one and only time his powers eluded him is perhaps the greatest backhanded compliment they can pay him.
They say success has many fathers. That is certainly true of Gerrard's. Many can claim, with justification, to have helped him along the way.Then along came Rafa, with whom Stevie had an at-times-difficult relationship. Benitez's role was to push Gerrard to ever greater heights.
The player would be frustrated with this, but ultimately realized that it was Rafa's obsession with correcting the very minor faults in his game that would drive him to greatness, they each understood that all they could do was nurture and coax out what was already there.
Steven Gerrard's genius was innate, but what set him aside from his peers was a relentless and insatiable desire.
Liverpool "Never Work Alone" team right from the era of Captain Steven Gerrard are an awesome force of nature. Why not bet on Liverpool on iLOT Bet when they play at their fortress home Anfield.