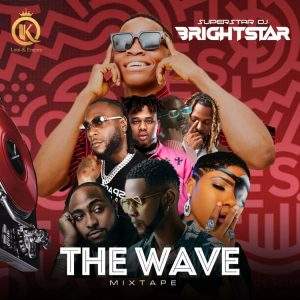 DOWNLOAD Dj Brightstar – The Wave Mix HERE.
After so much on Air , Online & direct phone request from the Public & private sectors , SUPERSTAR DJ BRIGHTSTAR aka "THE YOUNGEST PARTY PRINCE " who's the Official Disc Jockey (DJ) of The Top Ranking Media station in the World (INSPIRATION 92.3 FM ) Lagos Nigeria who's also The CELEBRITY GUEST DJ OF DIAMOND 88.5 FM OSUN STATE finally comes through with a SUPERB COMPILATION of BANGERS from A list acts in the Music Space to thrill everyone in the Middle of the year 2022 with a project Titled "THE WAVE " as his introduction for the Year.
Don't forget to link up with SUPERSTAR DJ BRIGHTSTAR via: @djbrightstar on Instagram & @iamDJBrightStar on Twitter.