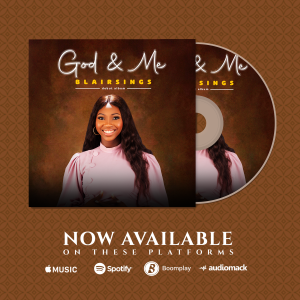 Ekeh Blessing Chiamaka, popularly known as Blairsings, was born on the 19th of April,2001 into a Christian family. She is the third child amongst six children.
Ever since she was a child, Blairsings had somehow understood the rudiments of music, and driven by her love for God it was only natural she began walking on the path she is today, a passionate & evolving gospel artist & songwriter.
In 2020 she was discovered and signed by Mr Regis (Regizbeatz)of Kleanmuzik management company during a gospel rendition(CANZONA MUSICAL CONCERT) at her current school of study, the Federal University of Technology Owerri, where she currently studies Petroleum Engineering.
In that same year she released her first single,"Sobeautiful",a song of praise to God.  Her other works include, Odumegbo Judah, NimeObim & Omemma. On the 27th of October,2023, blairsings is set to release her much awaited debut album, "God & Me".Album is Proudly produced by Regizbeatz& DGr8 for kleanmuzik
The album is set to heal hearts, edify soul s, strengthen faith by reminding us of the faithfulness of God's promises and most importantly, give praises to almighty God. Enjoy and share
BlairSings – God & Me Tracklist Below:
1. My Desire
2. My Life for God
3. A hug from ABBA ft. Kachi Annuncie
4. God's Love
5. Victory
6. I no fit shout ft. E-Berry
7. My Boss
8. Blessings (Chukwunonso)
9. Omemma
10. Nime Obim
11. So Beautiful