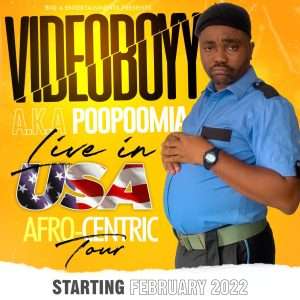 One of our Nigeria's favourite singer and comedian Videoboyy popularly known as Poopoomia will be live in USA for his Afrocentric tour. Videoboyy who has gained massive followers and fanbase for creating musical comedy skits, comedy skit online is one of the great talents to be featured on the 'Big A entertainment Afrocentric tour' in USA.
Videoboyy has visited many countries to perform and entertain , this is his first time visiting the United States and best believe that his fans in the United States can't wait to watch him perform live on stage.
Speaking to the organizer and sponsor of the tour Anderson Obiagwu aka Big A, he said He's happy to have Videoboyy on board for the 2022 Afrocentric tour because of the peoples' demand and he's making it happen in 2022.
Videoboyy will be visiting Dallas, Cincinnati, garland, upper Darby and Houston, and more cities and state will be added as the tour is a year long tour.
Know more about Videoboyy Poopoo mia www.Videoboyy.com
Kindly visit www.bigaentertainment.com for ticket and reservations.